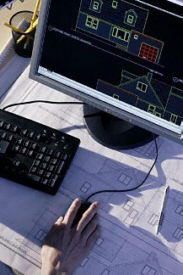 IDEAS ON PAPER was founded in February of 1993 by Mark A. Wright, President and CEO. Formulated from the vision of providing engineering drafting, computer aided drafting, and conversion services, IDEAS ON PAPER, a minority owned and operated firm, has grown to become a document management solution providing an array of complementing services including site surveys, project management, and data collection.
IDEAS ON PAPER made a name for itself, with its first contract, by providing drafting services for the Nashville Convention Center and various healthcare facilities in the southeast region in association with Johnson, Johnson and Crabtree Architects. The growth of IDEAS ON PAPER came with the acquisition of several contracts with the U.S. Postal Service creating digital maps for their customer routing database in the southeast region.
In need of additional administrative and management personnel, IDEAS ON PAPER brought aboard Belinda Wright as an associate to the company. Ms. Wright, a graduate from Balin Institute of Technology, possessed a strong background in computer-aided design, administrative, and project management skills. As a result of the strength and financial base of the company, IDEAS ON PAPER was incorporated in the state of Tennessee on March 22, 1995. To this day, Mark A. Wright presides as President and Belinda Wright as Vice President and Secretary of the Corporation.
IOP was awarded a three (3) year contract as subcontractor for the Nashville Electric Service (NES) in association with McWhorter & Franklin Engineers to provide CAD/GIS conversion of their electric service system maps, and this contract has expanded into a multi-year agreement. First quarter of 2002, IOP was awarded a three (3) year contract with the Department of Interior to provide drafting, scanning, and mapping services for the U.S. Fish & Wildlife. This contract covers the entire southeast region.
IOP, observing the change in our customer needs, developed solutions that address the area of preservation and accessing of paper documents. Since that time, IOP has developed a suite of solution packages. Some of our customers include Tennessee Department of Corrections where we have given the engineering department easy access to their converted paper documents. IOP has scanned drawings that date back to the 1930's up to 2004 to create a comprehensive digital database that houses all their engineering and specification documents that relate to their fifteen correctional facilities. Now for TDOC accessing documents is as easy as a click away.
IOP is currently implementing Document Management Solutions for the private and public sector by scanning and integrating their documents into our suite of products to provide them a complete document management solution.
IDEAS ON PAPER is a HUBZone certified small business with current and former clients including:
Infrastructure
I.C.F. Builders and Consultants, Inc.
McWhorter & Franklin Engineers
Envisions
Southern Companies
Ogden Engineering Consultants
Gilleland & Associates - Architects and Planners
Real Property Administration – State of Tennessee
Fort Campbell - Corps of Engineers
◊