WHAT IS DOCUMENT MANAGEMENT
Document management is the conversion of paper documents into electronic files which can then be stored on your computer workstation or server. Once on your computer, these documents can be retrieved effortlessly in seconds.
An effective document management system is the key to handling thousands, or even millions, of documents for our clients. The development of CD and DVD writers have allowed large volumes of data to be stored on compact discs. With technology ever improving we are now able to store large amounts of data on servers and allow complete access to data from any workstation.

A complete document management system comprises five elements:
WHAT CAN DOCUMENT MANAGEMENT DO FOR YOU?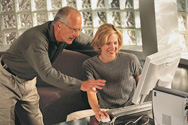 Saves storage space
Prevents lost records
Manages records easily
Finds documents quickly
Makes images centrally available
Eliminates the need for file cabinets
To assist in making a decision to see if document management is right for you, please read Laserfiche's in-depth overview of document imaging.
◊